Shopify has become the most vital part of eCommerce platforms and has various dynamic themes that dare to embellish your e-store's digital appearance. It also strengthens the brand's awareness and provides relevant vibes to interact with the visitors colossally. Shopify themes help brands to look savvy and influential simultaneously and dare to grab the organic visitors and traffic.
Best Shopify Themes You Will Read This Year
If you are running a single niche e-store or intend to set down your eCommerce store themes from the sketch, Shopify themes can do wonders in your businesses. Shopify themes are available in mobile and desktop versions to augment the e-stores vision. Shopify themes elevate the professionalism in the e-store through its innovative features.
Countless Shopify themes and designs are available range from music to extremely corporate levels to make your business more relevant and inviting. All Shopify themes have various customization options ranging from color schemes to their own custom designs to make your e-store more outstanding.
The A – Z Of Best Shopify Themes
The article dares to unleash the top 10 favorite and creative Shopify themes for your brands. These themes can help brands to maintain and increase their e-store's digital appearance and strength.
Wookie is a versatile Shopify theme that could be helpful to any sort of e-stores. It dominantly provides you control over your e-store and creates alluring vibes to get more organic visitors. Wookie is a newly released Shopify theme and has dynamic ultra-modern designs to make your e-store more astonishing.
Wookie has almost 27 attractive homepages layouts to make you more surprised. Anyone can choose their favorite designs according to their business niche. Wookie also has various templates that could match any business niche. Wookie also has e-store's inner pages templates that dare to keep an eye over product category pages and various essential features any e-store needs to augment its digital power.
Features
Wookie has almost 50,000 active users to date.
Wookie has single niche store layouts.
Wookie has nearly 16 creative layouts.
Wookie has creative pre-built buttons.
Wookie dynamically supports various languages.
Wookie has more than 20 splendid and creative skins.
Wookie has AJAR for fast loadings.
Price: $69
Motion is another creative Shopify theme that brings your e-store to digital life through dynamic and imaginative animations and videos. The Motion theme provides a more significant number of transactions in a minimal period. It is also effective for in-person selling and dares to simultaneously expose creative images to handle visual brand storytelling.
Features
The theme is full of various features that ultimately inspire the new fresh vibe to your brands. The Motion theme also contains
Image Gallery.
Slideshows.
Product tabs.
Videos and Options.
Shipping Information.
Size Charts.
Videos.
Color swatches to make your e-store more helpful and relevant to organic visitors.
Last but not least, the Motion theme also includes cross-selling, FAQ pages, Product reviews, product and trust badges, stock counter, promo banners, and in-menu promos. Anyone can get this fantastic theme to boost their e-store's digital power. The MOTION theme could be utilized for the clothing brands, apparel, food and drink industries, health and beauty industries. It is also best for any catalog size.
Price: USD 310
Mobilia holds the third position in the Shopify theme counting. Mobilia is so creative and dynamic for businesses ranging from small businesses to the giant's e-stores. It best suits the apparel and fashion industries niches to power the e-stores awareness to millions of internet users. Mobilia has so many versatile customization options for its users and drives the e-store towards the success paramount.
Features
Mobilia allows its users to resize their landing page banners.
Mobilia has high-quality homepage videos.
Mobilia designing is so accurate and alluring.
Mobilia has pre-added stock photos.
Mobilia is responsive and fastest.
Mobilia has already integrated social media features.
Mobilia has savvy search engine optimization.
Price: $180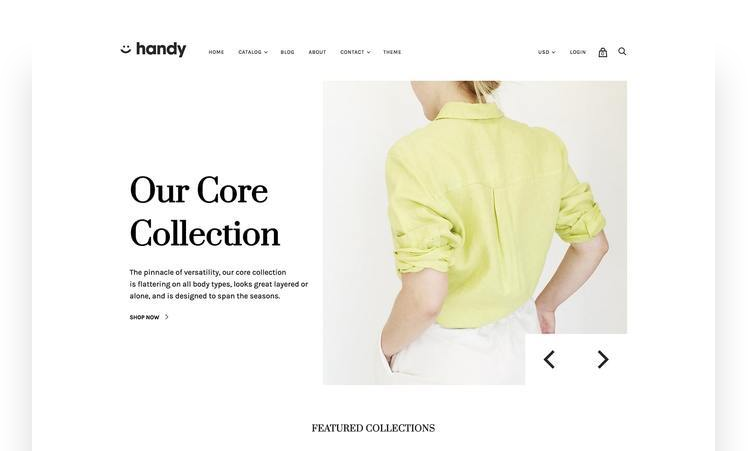 Handy is one of the simplest and convenient Shopify themes for small and giant e-stores. Handy offers various solutions ranging from its color themes to the dynamic phases of customizations. E-stores like apparel and fashion can utilize "HANDY" to tackle their all-digital hurdles. It is about gaining organic followers or augmenting the e-store awareness.
Features
Handy offers various mobile-optimized designs.
Handy offers the creative and most uncomplicated navigations for your e-store.
Handy has search-focused menus.
Handy also has multi-column menus.
Handy has eco-friendly search engine templates.
Handy has white space-rich modern layouts to make your store aesthetic.
Handy has Instagram gallery hover effects.
Price: $180
The universe is one of the most stylish and inviting Shopify themes of all time. It mainly has two different build-in themes that refer to the Light Earth Mode and Dark Mars Mode. Brands or E-store owners can choose a theme from these two dynamic and creative theme options to enhance their shopping experience in a savvy way. The universe is best for single and various product niches to maintain the entire e-store charisma.
Features
Universe has so much to offer to the e-stores owners. Its creative features contain;
Universe offers a sizable full-width slider.
Universe offers high-quality product images.
Universe offers inspirational images that help brands to exaggerate their actual voice.
Universe offers the demo slider editor.
Universe offers the easiest and simplest content customization for e-stores.
Price: $180
The Pro-Tip
Free Themes
Shopify offers various Free Shopify Themes such as Express, Narrative, Boundless, Simple, and Venture. Free themes are suitable for the newcomers who recently opened the e-store; still, these themes have not carried the customization options, color options, layouts, and templates.
Premium Themes
Shopify's Premium themes are the real power for the e-store owners. They can elevate their business in a few days by availing dynamic and innovative Shopify premium themes. Premium themes have so much to offer, and you can drive your sales pace faster and safely. Premium themes have more customization options, color palettes, accurate niche elements, creative customer services to boost the e-store unconventionally.
Flex is unique and one of the premium Shopify themes that dares to facilitate various e-stores ranging from small to giant ones. Flex dynamically offers different creative layouts and customization options for its users. Flex provides custom CSS to the coding language to increase organic traffic and leads.
Flex straightly helps newcomer e-store owners and saves precious hours via its creative theme. Flex offers various options, including 13 predefined theme styles for the e-store owners. Let's hunt down the Flex unique features to increase your intelligence.
Features
Flex offers the custom CSS
Flex is the creative and fastest responder.
Flex has mega menus.
Flex has dropdowns.
Flex offers the alluring product sale stickers.
Flex offers customization of Headers & Footers.
Price: $450
Turbo is the turbo, as its name slightly explains. It is best to stretch out the products in the digital world. Turbo is faster and reliable at the same time and best for the big e-stores that have various niches of products. If you are running an e-store and intend to reduce your e-stores loading time to make your customer service more enticing and savvier, Turbo is the most versatile option.
Features
Turbo offers a live search for visitors.
Turbo has the simplest navigations to facilitate the customer base ultimately.
The inspirational feature allows the editor to create more dynamic banners and footers.
Turbo offers mega menus.
Turbo offers newsletter signup to email marketing
Creative Blog Templates
Various Brand Niche Templates.
Price: $350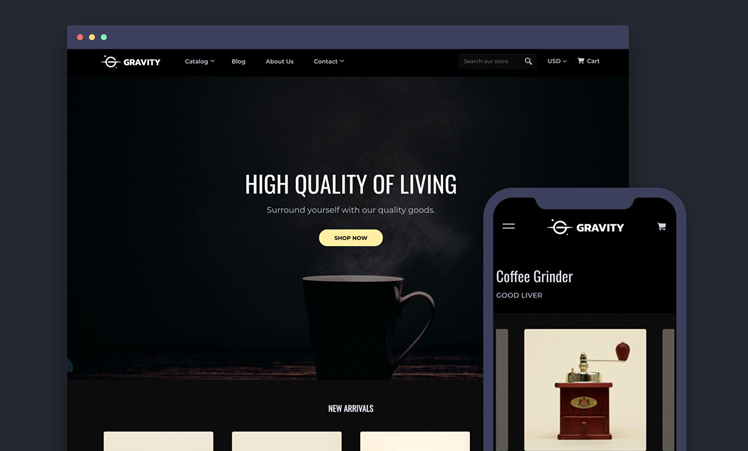 Gravity is alluring and enticing enough to grab the gazes at first sight with its innovative, unconventional, and innovative features. Gravity contains the dark themes that accelerate the enticing factors of any eCommerce e-store. Gravity also has other themes options and innovative customization features.
Gravity dominates the dark themes interface users to push them forward towards the organic sales, lead generations, and beneficial revenues of all time. Gravity is so effective for e-store owners that it decreases page loading time and boosts the e-store's full speed under speedy performance, among other themes.
Features
Gravity offers the robust mega menu
Fast Responsive
Multiple Slideshows
Creative Google Maps Integration
Slide-out Shopping Cart Display
Video Audio Support
Social Media Integration
Unlimited Page Layouts
Quick Add to Cart button
Slide-out Cart
Advanced Typography Options
YouTube Integration
Product Image Zoom
Extensive Documentation
Price: $180
Brooklyn is the finest for those who intend to make their e-stores more playful, magnetic, and vintage while living in the professional vibe. Brooklyn Shopify theme is specially made for the clothing and apparel as it undergoes ultra-modern features. The classic look is best for formal apparel; still, Brooklyn offers another zestful theme to boost their stylish vibes with creative and enticing colorful dresses.
Brooklyn is minimal and decent at the same time as well as its minimal designs are best for modern e-stores owners. Brooklyn is the subtle way to place your product images to the mainstream on your e-store. Brooklyn dares to grab the visitor's focus at first sight.
Features
Brooklyn allows the owners to focus on brand imagery.
Brooklyn offers the slideshow.
Brooklyn provides ultra-modern trendy vibes.
Brooklyn offers the various creative product grid
Brooklyn has a slide-out cart
Brooklyn places the product images on the home page.
Brooklyn allows adding stuff in carts without leaving the current page.
Brooklyn has various home page creative videos.
Social Media Integrations
Price: Free
Ella is clean, fresh, and the best-selling Shopify theme on Envato Market. Ella is famous among the entire Shopify themes and its users. The Ella theme has earned over 16 thousand downloads with the perfect 5-star ratings in the digital world. The Ella theme is the most successful and favorite due to its dynamic, simple, and ultra-modern features. It has several all-in-one theme templates that undergo multiple layouts and trendy factors. Ella also offers childish themes that are very eye-catching and alluring for the child apparel e-stores. It also has 15 layouts and 9 product pages for its users, and all layouts and product pages are creatively mobile-optimized to generate more organic sales. Ella recently released its new version, 4.5.
Features
Instagram integration
Collection pages
Good for BoostCommerce product filters
Good for a Search app
Product suggestions
Creative search option
Store Demos
Creative Design
Fonts Integration
Bootstrap 3 times faster
Best for Html5 + CSS 3
It offers the Mega Menu
Price: $69