Magento 2 is a fast-growing eCommerce platform that enables you to develop online stores and add commercial features to existing websites.
Magento 2 required a qualified developer or team to get things done and running smoothly. On the off chance that you don't have the abilities, involvement, or the time to do the coding at that point it's great to enlist an independent Magento 2 developer. When you are selecting a Magento 2 developer, you need to be clear about a few things like Goal and Objective, Budget, Timeline, and Skillset, etc.
Magento 2 freelancers are specialized professionals with extensive knowledge of how the platform works, its coding structure, and the fundamental best honest to convey completely operational online stores.
Are you looking for Magento 2 developer freelancers?

Here is the list of a few Magento 2 developers that you can refer to for your Magento 2 project or any task.
I am a freelancer skilled with Magento, Shopify, Woocommerce, and WordPress open source. I have very good knowledge and 9+ yrs of experience with Magento, Shopify, Woocommerce, WordPress, PHP, Javascript, jQuery, and MySQL. I completed many projects with good quality and support.
9+ yrs of experience working with Magento
Developed and design Magento 2 theme and customization
Custom Magento Extensions Development
Migration Magento 1 to Magento 2
Migrate data from Shopify, Woocommerce, Opencart to Magento 2
175+ five star reviews
Hey, Magento Certified Developer with 10+ years of experience building and maintaining Magento 1.x/2.x Community, Professional, and Enterprise editions. US-based, 5-star, UpWork Top Rated, full-time freelancer.
Magento Certified Developer
10+ years of experience
100% successful completion of job
Magento custom API setup
I am a certified Magento developer with more than 10 years of experience in Magento platforms, I create themes and extensions for Magento on Magento Community. I am a Romania based Magento Developer.
Expertise in Magento, WordPress, Woocommerc presentation web-sites, or e-commerce platforms, I reached a high experience level.
Magento Expert – jQuery / Prototype Coder
10+ yrs of experinced
250+ Jobs Completed
98% On Time
Currently work with e-commerce solutions for retail and wholesale customers and start-ups, creating and developing online-shops and enterprise solutions. I do e-Commerce development based on Magento 2 and Magento 1 CMS for online-shops, group and individual sellers, retailers, and wholesalers.
Design, layout and template changes;
Order, shipping and payment methods customization;
Setting up the discount, tax, payment rules for a different group of customers.
Migration from other CMS's and platforms to Magento 2 and Magento 1
Integrations with 3rd party systems
E-commerce Optimization – 5+ yrs Expert
I have been working as a Website Developer for 8+ years of experience in implementing, developing, and maintaining websites using CMS frameworks such as WordPress, Drupal, and eCommerce websites using Magento 2. I am able to complete projects efficiently and satisfy the customer.
Experience WordPress, drupal, Magento Developer.
Also knowledge of HTML, CSS, JavaScript, jQuery etc..
8+ yrs of experienced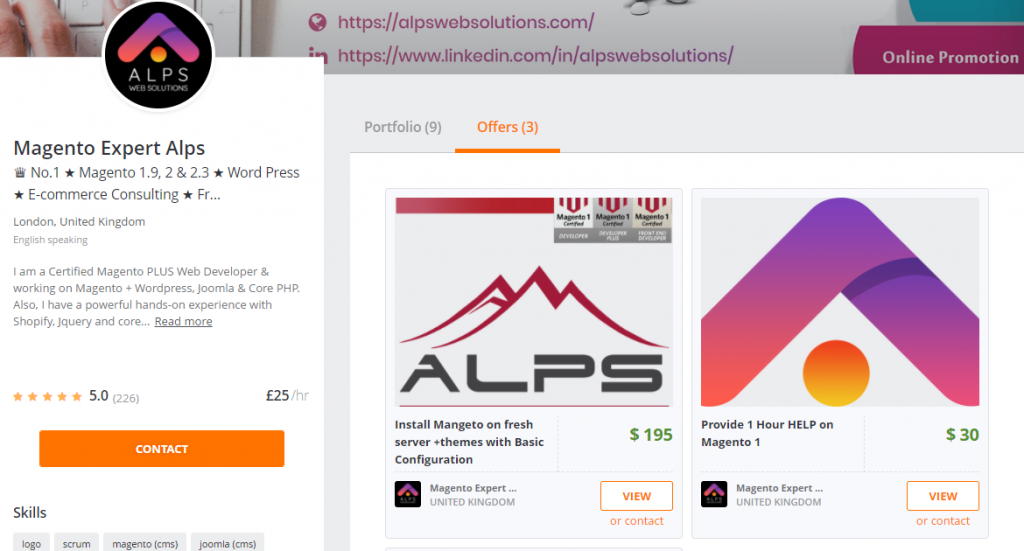 I am a Certified Magento PLUS Web Developer & working on Magento + WordPress, Joomla & Core PHP. Also, I have a powerful hands-on experience with Shopify, Jquery and core Ajax. My 10+ years of experience covers PHP, Joomla, Magento, AJAX, Jquery Ajax, Adobe Photoshop, CSS, and HTML Developments.
Magento Migrations
Magento / Word Press / Shopify Customization
Magento – eBay integration
Magento API projects
Projects worked on 145+